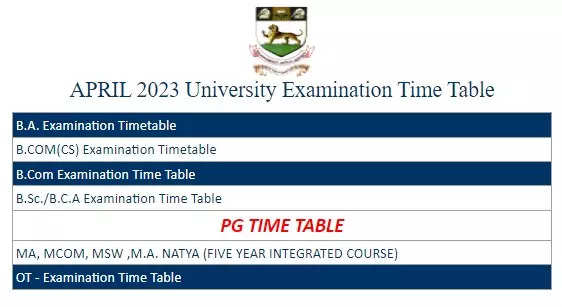 NEW DELHI: The University of Madras has released the April 2023 University examination time table today, May 9, 2023. Students who are going to appear for the written examinations can check and download the Madras University exam time table 2023 from the official websites at unom.ac.in or egovernance.unom.ac.in.
The Madras University exam schedule has been released for the following courses – B.A., B.Com (CS), B.Com, BSc/BCA, MA, MCOM, MSW, M.A. NATYA (5-year integrated course), and OT.
"All Other Degree examinations timetable will be uploaded tomorrow," reads the official website.
How to check Madras University Exam Time Table 2023?
Step 1: Visit the official website at
www.unom.ac.in
Step 2: On the homepage, click on the link – UG/PG Degree – April 2023 Examination – Timetable.
Step 3: A new window will be opened on the screen.
Step 4: Check the course-wise exam time table.
Step 5: Download the same and take a printout for further use.
For undergraduate programmes, the BA degree and B.Com (CS) exams are scheduled to begin on June 26 with English-I subject. B.Com. degree, B.Sc./BCA exams will begin on June 24, 2023.
For master's programmes, MA, MCOM, MSW, M.A. NATYA will begin on June 14 and Sanskrit Siromani – MA exam will commence on June 24, 2023.
For further details and information, students are advised to go to the official website and check out the detailed Madras University exam schedule 2023.
Madras University Exam Time Table 2023: Check here
B.A. Examination Timetable
B.COM(CS) Examination Timetable
B.Com Examination Time Table
MA, MCOM, MSW ,M.A. NATYA (FIVE YEAR INTEGRATED COURSE)
OT – Examination Time Table