VIZIANAGARAM: The Chief Minister of Andhra Pradesh, YS Jagan Mohan Reddy said that the Central Tribal University would change the lives of Adivasis, and they would compete with the world in the coming days.
He said that in his four-year rule, the YSRCP government had given top priority to the medical health, and education sectors.
CM Jagan along with Union Minister for Education Dharmendra Pradhan laid the foundation stone for the Central Tribal University's permanent campus between the Chinnamedapalli-Marrivalasa in the borders of Mentada-Dattirajeru mandals in the district.
While addressing the people at a public meeting in Maradam village, the CM said that his government is establishing the tribal university in the tribal area of Saluru region. He said the university would take shape to enlighten the lives of the tribal people. CM Jagan said YSRCP had provided even political posts to the tribals by showing the deputy CM Peedika Rajanna Dora of Saluru. Local tribals got 100% reservation in all posts in 497 secretariats in tribal area, he said.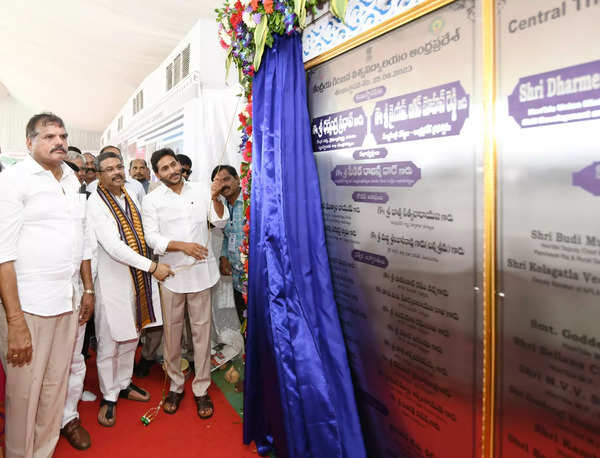 Union Minister of Education Dharmedndra Pradhan seen with CM Jagan inaugurating the construction of the Central Tribal University.
CM Jagan said that the tribal area has seen a lot of development in the past four years as two medicals are coming up at Paderu and Parvathipuram with an estimated cost of Rs. 1000 crore, a tribal engineering college at Kurupam in 105 acres and with an estimated cost of Rs. 153 crore and this tribal university, besides an International Greenfield airport at Bhogapuram, which is close distance to all these colleges.
Apart from this, he said the tribal university location is close to the Visakhapatnam-Rayagada National Highway, Vizianagaram, Gajapatinagaram, and Bobbili Railway stations on the Visakha-Howrah railway line. CM said that his government is taking unprecedented steps towards education.
Chief Minister said that his government had taken steps for the tribals' welfare in the past 50 months. "Our government has spent Rs. 16,805 crore on the tribals' welfare. Around 3.23 lakh acres of land with all rights have been distributed to 1.54 lakh tribal families as per the promise of providing two acres of land to the eligible scheduled tribal families. Free electricity is being provided to 4.58 lakh families by spending Rs. 410 crores since July of 2019," he elaborated. CM further said that his government is completing a kidney super specialty hospital and research center in Uddanam to address kidney disease.
The Union Minister lauded the AP's education model and praised CM Jagan. He said Prime Minister Modi appreciated the Andhra model of imparting education in the mother tongue. He said it was a good model. "AP government developed unique books, bilingual books, wherein on one page the content is in English and on the other page the content is in Telugu," he praised.
State ministers, MLAs of Vizianagaram and Parvathipuram districts, and government officials took part in the programs.